"As a retired, third-generation Kentucky State police officer, I was in excellent health. So it surprised me that, at the age of 60, I began to develop serious back pain. I tried many conservative treatments to relieve the pain but it only got worse. Eventually, the pain became so unbearable that it began to rob me of my greatest joys and hobbies: traveling, driving sports cars, even walking while standing upright became a challenge that was riddled with pain. I knew something had to be done.
After solid referrals and consultations with highly-regarded surgeons, I underwent three different (though all were major and very complicated) spine-surgery procedures at some of the nation's most prestigious medical centers over a four-year span of time. Each procedure resulted in a failure to address my pain. In some ways, the pain actually became worse.
It was 2011, when I had finally reached the point where the quality of my life was a shadow of what it used to be. I began, for what I hoped would be the last time, a nation-wide, online search for the best surgeon to treat me and relieve my pain for good. Interestingly, I came across Dr. Anand and his credentials near the beginning of my search. I immediately had the impression that this was the man who could finally help me. But I wanted my search to be extensive, so I reviewed nearly 100 surgeons. Even after that exhaustive a review, I was still convinced that Neel Anand was the surgeon for me.
I live in South Carolina, so I made the call to Dr. Anand's office and asked to discuss my lengthy history of spine pain and failed surgeries. To my surprise, Dr. Anand's staff was willing to speak with me that day. They were kind, accommodating and understanding. This seemed like another good sign that I had found the right surgeon for me. Because I wanted to consult with Dr. Anand in person, his staff also made arrangements for me to meet with him just one week after my phone call.
After a five-hour plane ride, I met with Dr. Anand for an exam, x-rays and consultation. He told me that I had scoliosis and that I was a candidate for the minimally-invasive procedures that he pioneered to correct it. After seven and a half years of debilitating back pain, the loss of five and a half inches of height, and every other surgeon telling me an open procedure with 12-14 month recovery was the only way to go, Dr. Anand's recommendations were music to my ears. In fact, I recall telling Dr. Anand at the time: "If you weren't a man, I'd kiss you."
Dr. Anand performed the first of my operations on January 19, 2012 and completed my 9 disc fusion, from T10 to S1 on January 23. It is a day I will remember forever because it's the day that I began to regain the life I had missed for so many years. I had an excellent recovery experience at Cedars-Sinai Medical Center, the hospital where Dr. Anand operated on me. The staff was friendly and helpful--simply amazing.
Just 17 days after surgery, I flew home from Los Angeles to Charlotte with the ability to control the post-operative pain on my own. Just a week after I returned home, I was able to reduce the pain medication I was on by 66 percent. Since then, I have reduced it by another 33 percent. It's the lowest dosage of pain mediation I have been on in more than six years and I have no doubt that I'll reduce it even further as my recovery progresses. I am amazed at how well I'm doing only three months post-surgery. In fact, I am feeling so great that I have chartered a yacht to sail the British Virgin Isles in celebration with my family this summer. After so many years of back pain robbing me of the ability to travel, I plan on making up for it as much as I can and I have Dr. Anand to thank for it.
Dr. Anand is the only spine surgeon I found who performs minimally-invasive spine procedures to benefit the patient. He was the only one who didn't see the need to cut through all of the muscles in my back in order to fix it. At the age of 71, I don't know if I could've lived through a procedure like that. There is no doubt in my mind that Dr. Anand is the finest spine surgeon in the United States.
My entire experience with Dr. Anand, his staff, Cedars-Sinai and its staff was nothing short of amazing. I can walk, drive, enjoy time with my wife, daughter and grandkids, and travel again without the disabling pain I lived with for so many years. What Dr. Anand did for me was beyond my expectations after what I've been through. Today, I am in the process of preparing our jet skis for the summer. I plan to ride them all over the lake, and I'll think of Dr. Anand and the life he restored as I do."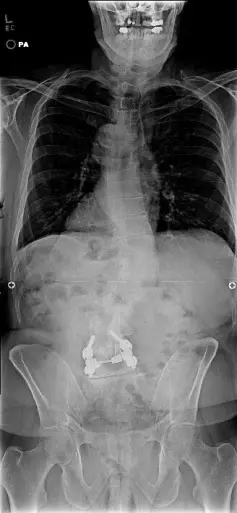 7 years After Surgery (2019)