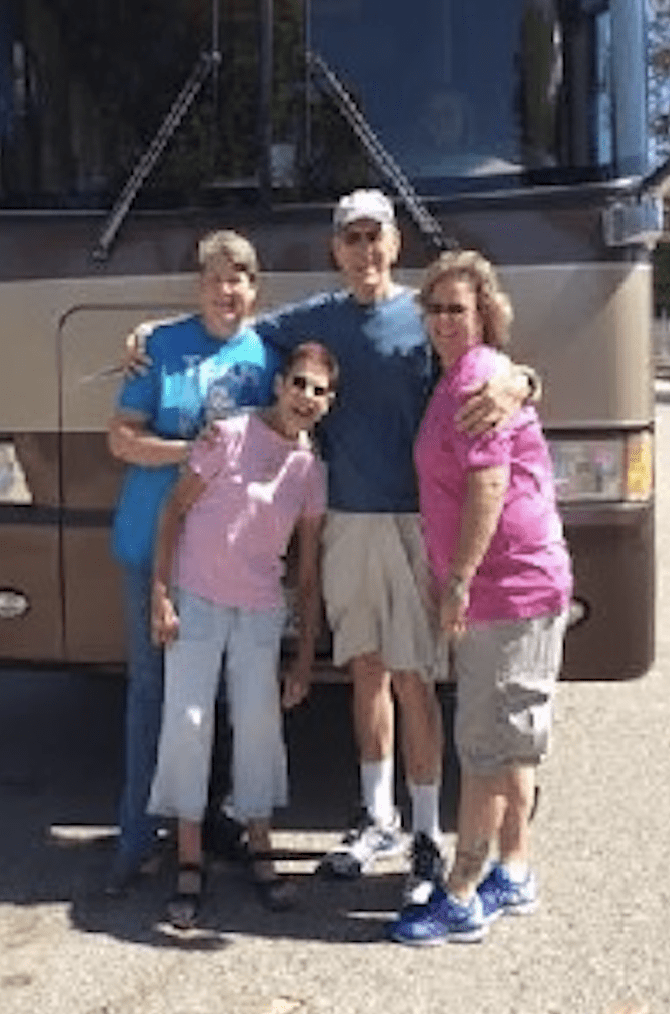 In December 2016, this 69 year old female presented to the office with pain in her back for the past 15 years. She had a remarkable history of being involved in a motor vehicle accident about 8 years prior, from which she developed weakness on her left side and required a cervical anterior and posterior fusion surgery due to compression on her spinal cord. She reported that she was able to stand straight prior to the accident, but that over the past 8 years, she was progressively falling over to the left side. She stated that her spine had been curving even more rapidly over the past 3 years. She could not stand upright, as seen in the photo. In addition, she had a history of osteoporosis and chronic pain and was taking multiple pain medications. On examination, she was able to maintain a relatively upright sitting position, however she rapidly leaned off to the left upon standing. She also exhibited signs of persistent spasticity in her upper and lower extremities, residual symptoms from her cervical spine injury. Comparing x-rays from 2007 and 2016, there was a considerable change in her deformity, consistent with a worsening degenerative scoliosis. As evident by her x-rays, she was clearly in a difficult predicament.
Therefore, after her consultation, she decided to pursue surgical intervention for correction of her deformity with Dr. Anand. In January 2017, she underwent a staged, minimally invasive scoliosis reconstruction. On the first day, she had a L1-2, L2-3, L4-5, and L5-S1 oblique lateral interbody fusion (the L3-4 disc space was autofused). For the next two days, she was able to get out of bed and sit in a chair and walk around her hospital room. An x-ray was taken on the second day to reassess her spine, which showed significant improvement in her upright alignment already.
On the third day, she returned to the operating room for the second stage of her surgery. She underwent a minimally invasive T10 to Pelvis posterior instrumentation and fusion to stabilize and secure the alignment. Since the surgery, she is standing remarkably straighter and taller. She is walking much better.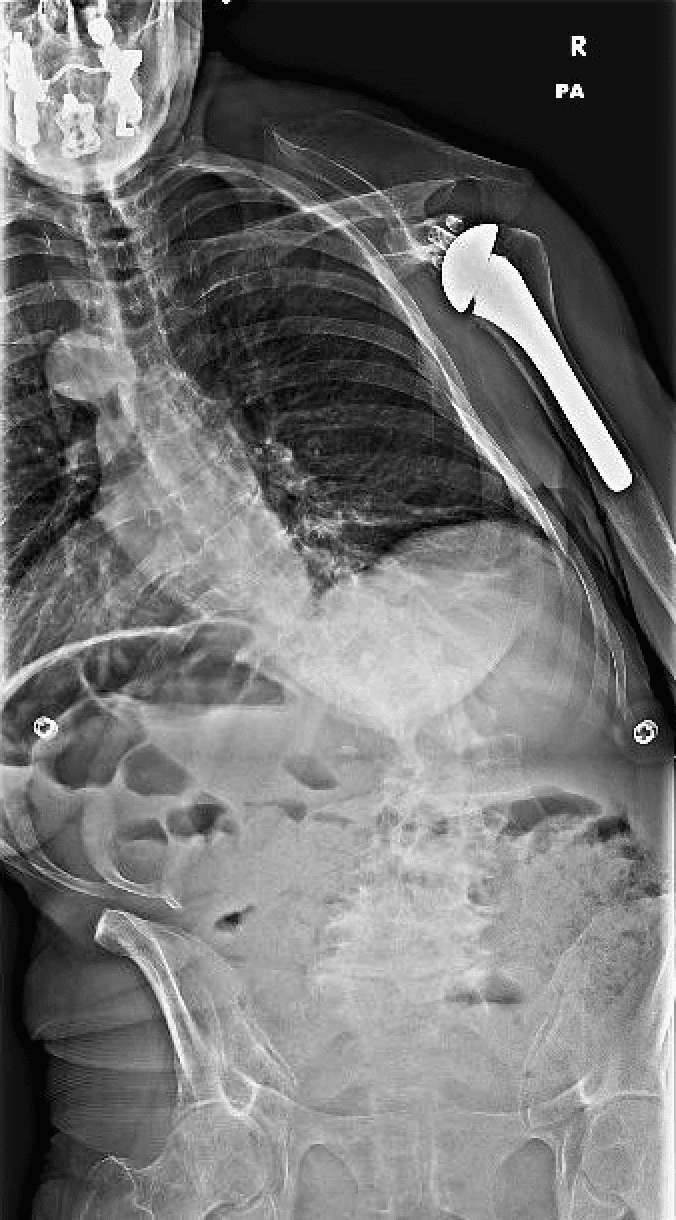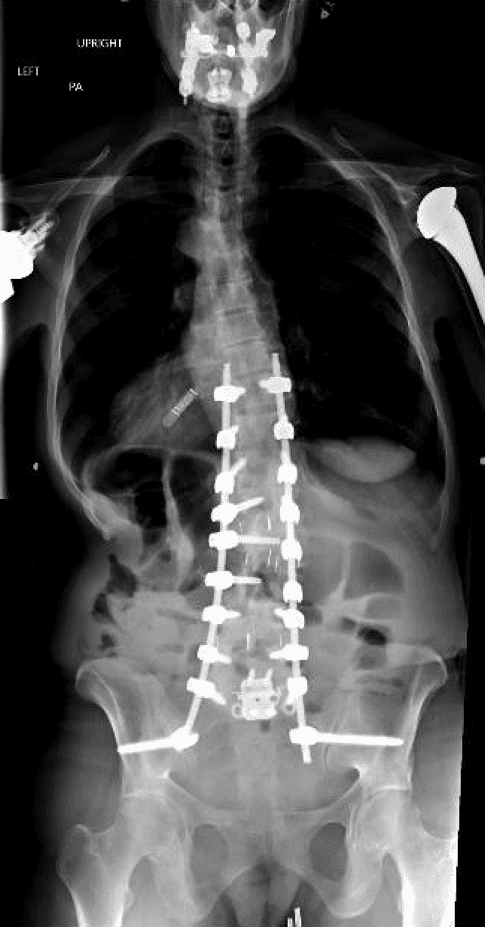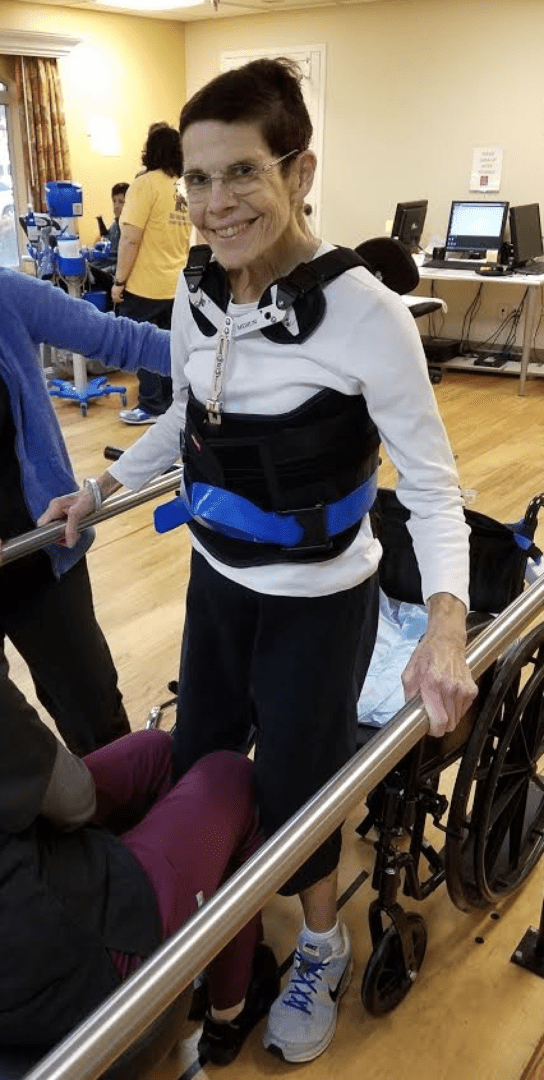 "For many years, I had great difficulty getting around and I could tell it was getting worse. A friend of a friend of mine talked with me about Dr Anand's surgery on her. She couldn't recommend him highly enough. So, I made an appointment with him. After many tests along with an in-depth analysis of my history (hit by an 18 wheeler while out walking), Dr Anand was confident surgery could help me. It did and I am so grateful having him as my surgeon. After many weeks of PT/OT, when I finally returned to water aerobics, my friends gathered around saying, "Oh my gosh, you are so much taller." I never regretted my decision going with Dr Anand."