Our Patient Success Stories
Patient Success Stories at The Anand Spine Group
Find Out What Patients Are Saying
Click on the link to read the full story
Before my pedestrian/car accident in 2011, I had been a sporty woman all of my life, I was a 10k runner and long distance bicycle rider. Following my accident, I went to see Dr. Anand who had also successfully performed surgery on my then 17-year-old son whose legs were taken out from beneath him when playing basketball. After being prescribed physical therapy, I noticed that I was still having problems doing even the small things, like turning my head and swimming, even the pressure of the water on my head was painful. The pain was pretty bad and since I wanted to avoid taking pain medication, it became even more daunting for me to overcome.
After trying all other recommended treatment options and still dealing with daily pain and almost complete lack of range of motion, the one option that remained was surgery. "I had 100% confidence in Dr. Anand and trusted him completely to perform my surgeries. Life is great now and I can't thank him enough!" Thanks to Dr. Anand, I am back to swimming and living life to the fullest. The best part is finally being pain free!
C5-6 anterior cervical discectomy and fusion & C6-7 artificial disc replacement in February 2018 for treatment of cervical stenosis
C1-2 posterior instrumentation and fusion in June 2018 for treatment of spinal instability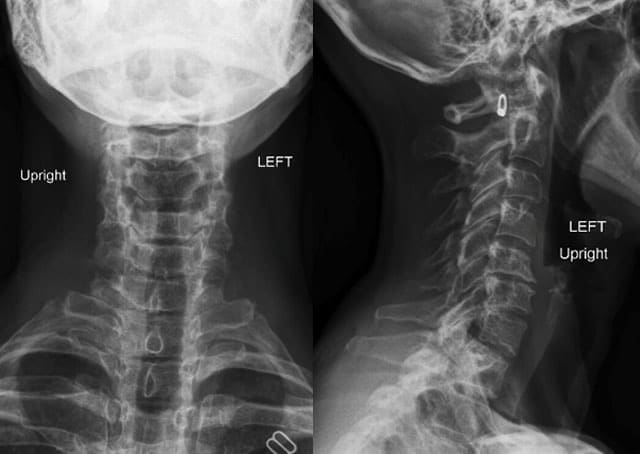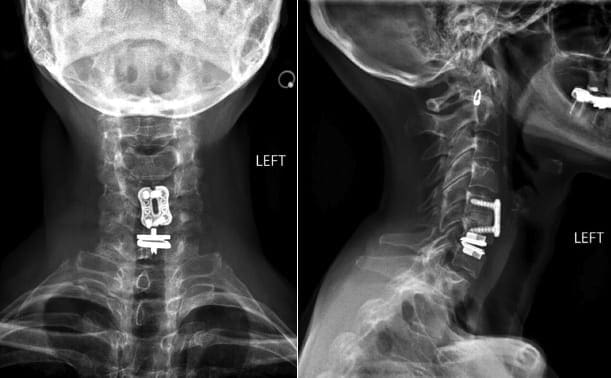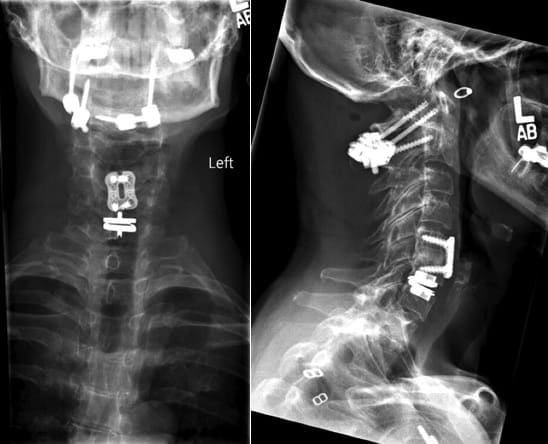 I wanted to share the news that Jordan Qsar had a wonderful season at Pepperdine University Baseball and was Player of the Year in our conference. He was also drafted by the Tampa Bay Rays recently and will be pursuing his Major League Baseball dream. If it wasn't for Dr. Anand's expertise and surgery, Jordan would not be where he is today. As you know, Jordan came to Pepperdine on a baseball scholarship in 2014 and had several years of back pain that limited his ability to play a full season. After seeing many doctors it wasn't until we saw Dr. Anand that he diagnosed his back pain correctly and recommended a direct pars repair of the L5. The surgery was on May 3rd, 2016 and was the best thing we could have ever done. Please share this news with Dr. Anand and staff which I'm sure they would love to hear. Jordan's baseball career was saved by Dr. Anand when others were tell us to give it up. His back is healthy and pain free. Thank you again.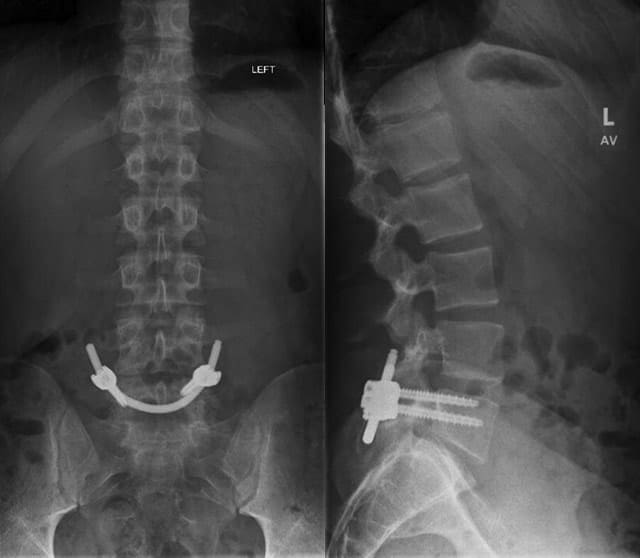 Dr. Anand was honored and humbled to be recognized at the 44th Annual Annie Awards by Bill and Sue Kroyer, who received the Lifetime Achievement Award (acknowledgement begins at 25 minute mark):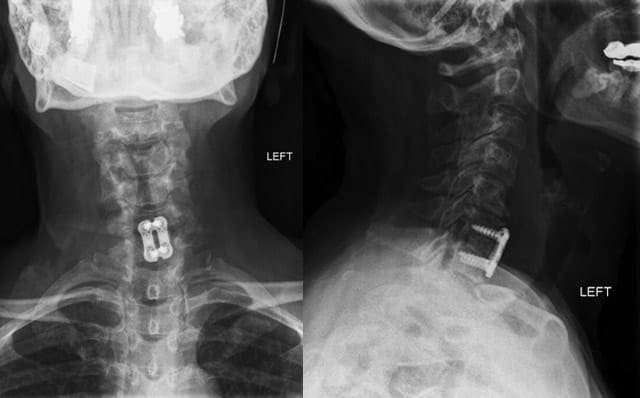 After a series of failed neck surgeries in the late 1990's and early 2000, I began experiencing back pain. At that time, I was in my mid-40s and the symptoms continued and the intensity increased. I scheduled a consultation appointment with a doctor and was taken aback to learn that I had idiopathic scoliosis.
At that time, I felt as long as I could manage my pain, I would defer any treatment and explore other options.
I visited a chiropractor to see if there was anything he could do to help. I questioned whether chiropractic care could correct and/or lessen the problem. He looked at me like I was crazy and explained that no amount of chiropractic manipulation would improve the stability of my spine. I even consulted with a personal trainer who came just short of guaranteeing me that within six weeks, the stability of my spine would improve to the point where surgery would no longer be necessary. I decided that was much too big "a pill to swallow" - an absurd notion.
The pain continued, increasing in intensity and duration, making it more and more difficult to carry out my daily activities. I spent much time in bed, feeling thankful if I was able to accomplish one errand or chore a day. It got to a point where I would do one thing one day and the next day I spent in bed. I became more and more fatigued and the rare times I was able to go out in the evening, after about an hour I had to make my apologies and excuse myself to go home to bed. I could no longer stand up straight - always bent over to the side requiring I use a cane (the purchase of which, in and of itself, was a traumatic experience). The pain and physical disability I was experiencing was exhausting, to say the least.
Aside from the pain and disability, I was unable to commit to any plans whether it was with family or friends. Since I could not know if I would be able to do anything, it was easier to reject all invitations than to accept and then later have to make excuses. You can't imagine how lonely I felt and sad that I was letting others down all the time. The pain was bad enough but dealing with life itself in the direction it was going, I knew I was in trouble and I had to get help.
I consulted with the neurosurgeon who performed my last successful neck surgery. He explained that my condition had progressed so significantly that I would need open surgery to correct the scoliosis deformity or I would eventually end up in a wheelchair! To say I was scared doesn't begin to describe what I was feeling. There was no way I was ever going to entertain the idea of undergoing an open surgical procedure, let alone face the likelihood of another failed spine surgery.
I realized then that I had would have to begin to face the very real possibility of spending the rest of my life in a wheelchair. In preparation for my fate, I began taking the necessary steps which included remodeling my home.
A friend of my father's told me about an article he read in the newspaper about a surgeon named Neel Anand, M.D. who pioneered and performs minimally-invasive procedures to correct spinal deformities, with a specific expertise in scoliosis. Although cautiously optimistic, underneath it all I felt a glimmer of hope that I might be able to change the wheelchair bound future I was facing.
Soon thereafter, I met with Dr. Anand who reassured me and felt confident that I was a candidate for the minimally-invasive correction procedure for my scoliosis.
Though I was scared, Dr. Anand's procedure seemed like a very real and hopeful possibility as opposed to the egregious wheelchair path I was facing - an unacceptable option. I realized the option of doing nothing was not an option at all!
I made the decision to put myself and my faith in Dr. Anand and go ahead with surgery.
My minimally-invasive curve correction and spinal fusion procedures took place in November 2009. I am fortunate that I heal quickly and that I strictly adhered to Dr. Anand's post-op, discharge and therapy instructions.
After I healed, I began walking slowly at first, and then working my way up to three miles a day in my neighborhood with my assistance dog Jack at my side. Presently, I am virtually pain-free from my pre-surgical symptoms and as a result, no longer have the need for pain medications. This summer I will be taking my first ever cruise and upon my return, look forward to entertaining my entire family for the holidays.
I cannot say it enough - without Dr. Anand, I would be facing a very different life. A life consumed and riddled with pain, unable to stand or walk.
Without Dr. Anand, I would never have even considered the surgeries. I will be forever thankful and grateful to Dr. Anand for improving my quality of life and for the gift he gave me - a second chance at life and a new beginning with hope and promise.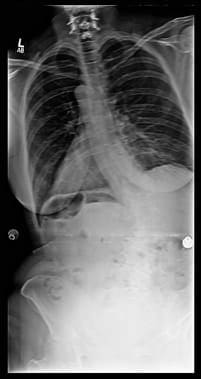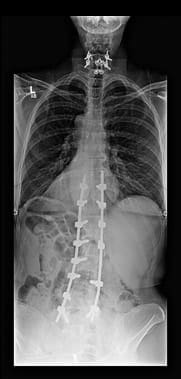 As a retired, third-generation Kentucky State police officer, I was in excellent health. So it surprised me that, at the age of 60, I began to develop serious back pain. I tried many conservative treatments to relieve the pain but it only got worse. Eventually, the pain became so unbearable that it began to rob me of my greatest joys and hobbies: traveling, driving sports cars, even walking while standing upright became a challenge that was riddled with pain. I knew something had to be done.
After solid referrals and consultations with highly-regarded surgeons, I underwent three different (though all were major and very complicated) spine-surgery procedures at some of the nation's most prestigious medical centers over a four-year span of time. Each procedure resulted in a failure to address my pain. In some ways, the pain actually became worse.
It was 2011, when I had finally reached the point where the quality of my life was a shadow of what it used to be. I began, for what I hoped would be the last time, a nation-wide, online search for the best surgeon to treat me and relieve my pain for good. Interestingly, I came across Dr. Anand and his credentials near the beginning of my search. I immediately had the impression that this was the man who could finally help me. But I wanted my search to be extensive, so I reviewed nearly 100 surgeons. Even after that exhaustive a review, I was still convinced that Neel Anand was the surgeon for me.
I live in South Carolina, so I made the call to Dr. Anand's office and asked to discuss my lengthy history of spine pain and failed surgeries. To my surprise, Dr. Anand's staff was willing to speak with me that day. They were kind, accommodating and understanding. This seemed like another good sign that I had found the right surgeon for me. Because I wanted to consult with Dr. Anand in person, his staff also made arrangements for me to meet with him just one week after my phone call.
After a five-hour plane ride, I met with Dr. Anand for an exam, x-rays and consultation. He told me that I had scoliosis and that I was a candidate for the minimally-invasive procedures that he pioneered to correct it. After seven and a half years of debilitating back pain, the loss of five and a half inches of height, and every other surgeon telling me an open procedure with 12-14 month recovery was the only way to go, Dr. Anand's recommendations were music to my ears. In fact, I recall telling Dr. Anand at the time: "If you weren't a man, I'd kiss you."
Dr. Anand performed the first of my operations on January 19, 2012 and completed my 9 disc fusion, from T-10 to S-1 on January 23. It is a day I will remember forever because it's the day that I began to regain the life I had missed for so many years. I had an excellent recovery experience at Cedars-Sinai Medical Center, the hospital where Dr. Anand operated on me. The staff was friendly and helpful--simply amazing.
Just 17 days after surgery, I flew home from Los Angeles to Charlotte with the ability to control the post-operative pain on my own. Just a week after I returned home, I was able to reduce the pain medication I was on by 66 percent. Since then, I have reduced it by another 33 percent. It's the lowest dosage of pain mediation I have been on in more than six years and I have no doubt that I'll reduce it even further as my recovery progresses. I am amazed at how well I'm doing only three months post-surgery. In fact, I am feeling so great that I have chartered a yacht to sail the British Virgin Isles in celebration with my family this summer. After so many years of back pain robbing me of the ability to travel, I plan on making up for it as much as I can and I have Dr. Anand to thank for it.
Dr. Anand is the only spine surgeon I found who performs minimally-invasive spine procedures to benefit the patient. He was the only one who didn't see the need to cut through all of the muscles in my back in order to fix it. At the age of 71, I don't know if I could've lived through a procedure like that. There is no doubt in my mind that Dr. Anand is the finest spine surgeon in the United States.
My entire experience with Dr. Anand, his staff, Cedars-Sinai and its staff was nothing short of amazing. I can walk, drive, enjoy time with my wife, daughter and grandkids, and travel again without the disabling pain I lived with for so many years. What Dr. Anand did for me was beyond my expectations after what I've been through. Today, I am in the process of preparing our jet skis for the summer. I plan to ride them all over the lake, and I'll think of Dr. Anand and the life he restored as I do.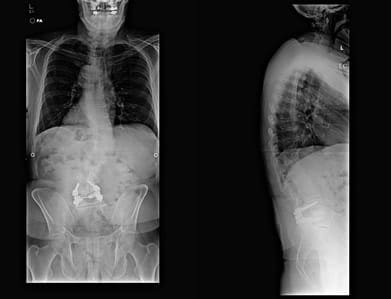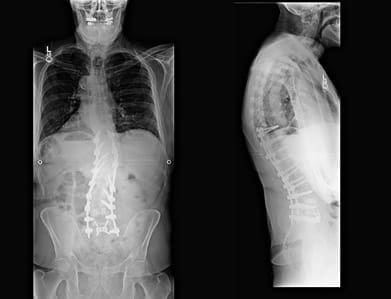 I've had scoliosis for my whole life, but didn't know it. When I was growing up, schools didn't screen for scoliosis, so when I got older and began to experience chronic back pain, I thought it was arthritis. I didn't have any real symptoms of scoliosis, except that one breast bone was higher than the other and my spine had several curves. Eventually my sciatic nerve hurt so much that I had trouble walking. I was getting pain shots every two weeks, but it didn't really help. My doctor referred me to Dr. Anand. I checked him out on the internet and was very impressed by his credentials. Dr. Anand diagnosed my problem as scoliosis. I was one of the first patients to receive Dr. Anand's minimally invasive treatment, which made for a very speedy recovery.
When I was growing up, schools didn't screen for scoliosis. I didn't have any real symptoms of scoliosis, except that one breast bone was higher than the other and my spine had several curves. As I got older, I began to experience chronic back pain from what I thought was arthritis. Eventually, my sciatic nerve was hurting so much that I had trouble walking. I was getting pain shots every two weeks, but it didn't really help. My doctor referred me to Dr. Anand. I checked him out on the Internet and was very impressed by his credentials.
Dr. Anand took x-rays and showed them to me saying, "Here's your problem. You have scoliosis." I was surprised, because in my day, the disease was not so well known. The kids with severe cases wore braces and that was about it. I probably had scoliosis since birth, but didn't find out until I was 70 years old! After Dr. Anand identified the problem, he told me that liquid from the cushioning between my vertebrae was leaking into my spine. I was worried because everyone had told me that spine surgery is horrible. But Dr. Anand said that he could correct my problem with minimally invasive procedures that he had recently developed. First he performed surgery on my lumbar, taking out the discs and replacing them with synthetic spacers to correct the tilt of the vertebrae. Then he scheduled a second surgery a few days later to put in screws and rods to fix the scoliosis.
After the second surgery, they moved me to the rehab/physical therapy department. Everyone thought I was a track star because I was running up and down the stairs. I did physical therapy for about a week, then was released with a cane - not a walker. They put me in a back brace for a few months to prevent movements that could interfere with the healing process. Now I feel perfect! I'm 73 and doing everything I used to do when I was younger. I was desperate before I met Dr. Anand. Now I have a positive attitude because everything worked out so great!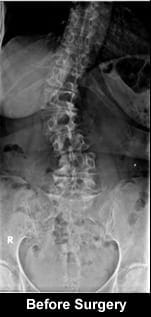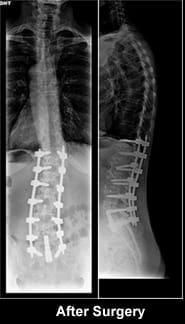 When I was 14, I was in a terrible car accident resulting in a broken back and a catastrophic spinal deformity. In 2007, my spine unfused. I feel so lucky and blessed that Dr. Anand was assigned to my case. I feel great and have a wonderful life. I'm still in a wheelchair, but I'm a working actor and very active. Dr. Anand gave me back my career. He's someone that I'll stay in touch with for the rest of my life. He has a very special place in my heart.
I grew up just outside of Knoxville, Tennessee in a house my parents designed on four acres of land. When I was 14, three high school friends and I got into a terrible car accident. The car hit a tree, I flew forward and the seat belt, which was a lap style, cut one of my intestines in half. I broke my back and became a paraplegic. I had my back fused with rods and screws and began physical rehabilitation. Three years later, the rods were taken out and I became fully independent of my wheelchair. I went to college at Oglethorpe University in Atlanta, where I caught the acting bug. I also performed with Full Radius Dance Company, which is a physically integrated (using dancers with and without disabilities) professional modern dance company.
In 2004, while still living in Atlanta, I was cast in my first Hollywood film, HBO's Emmy Award winning "Warm Springs," starring Kenneth Branagh, Cynthia Nixon, and Kathy Bates. Shortly after that, I moved to Los Angeles, where I happily reside today. In 2006, I was cast as a series regular on the NBC Universal comedy pilot "I'm with Stupid," developed by the Farrelly brothers and directed by Linwood Boomer, creator of "Malcolm in the Middle."
Suddenly that year, my vertebrae unfused. My back was popping, but my doctor thought it was just arthritis. The problem kept getting worse until I finally went to the Cedars-Sinai emergency room. Dr. Anand was assigned to my case and he told me that when the bones become unfused, the body creates a joint between them. Dr. Anand had done a similar surgery before, but the procedure itself was ground breaking and no one else was doing it. Dr. Anand performed two surgeries: one to install a cage, rods and screws, and the second to finish everything off. During the first surgery, Dr. Anand discovered that my bones were crumbling from severe osteoporosis. My previous doctor should have prescribed Calcium or Fosamax to prevent the osteoporosis.
I feel so lucky and blessed that Dr. Anand was there. I feel great and I have a wonderful life. I'm still in a wheelchair, but live alone with complete independence. I'm a working actor and very active. Dr. Anand gave me back my career. He's someone that I'll stay in touch with for the rest of my life. He has a very special place in my heart.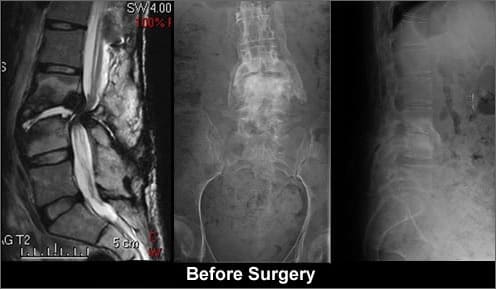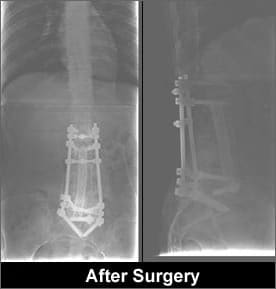 In 2005, I had a serious go-cart accident while competitive go-cart racing in Lancaster, California resulting in a fracture dislocation of the spine that almost left me paralyzed. I walked over to a safe portion of the race track, but I was in a lot of pain and having a hard time standing up, so I drove to the hospital with my wife. At the hospital, I got into a wheel chair and sat in ER for four hours in excruciating pain. Eight hours later, after CAT scans and X-rays, they told me I had a broken back and put me on morphine. Then they brought in a surgeon who told me to go home and wait for three months, then maybe do a surgery. I said "Get me to Cedars-Sinai! Dr. Anand was very confident, knowledgeable, and handled everything quickly and professionally.
I had been laying on my back for two days in the Lancaster hospital when my parents called our family friend Stephen Spielberg, and asked him to get me into Cedars-Sinai. My dad is Drew Struzan, the "father of the movie poster," who did "Back to the Future" and all the "Star Wars" posters. They put me in an ambulance and we drove all night. At dawn, Dr. Anand walked in with an entourage of eight people holding clipboards. After more CAT scans and X-rays, Dr. Anand said we're going to operate tonight.
The surgery was supposed to last six hours, but they found a 2 cm bone fragment lodged in my spinal cord. The surgery ran an extra two or three hours to remove the fragment. They put in two rods on both sides of my spine and fused seven vertebrae. I woke up the next day and went for a walk. The pain was tremendous, but I began my recovery instantly. After six weeks, I was off painkillers and back to work. Dr. Anand put me back together so well that after two months I went to Ireland to work with U2. I still have a lot of pain to manage day to day, but I do Pilates, ride motorcycles and I'm pretty active for a 40 year old guy.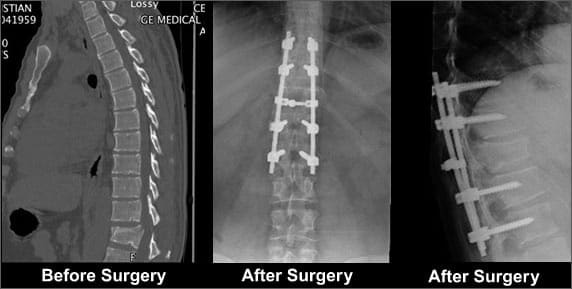 In 1994, I was in a car accident while traveling abroad. Afterwards, I had no obvious symptoms - no pain, no numbness, just a very subtle progressive weakness, so I didn't give it much thought as I attributed it to middle age. Then in March 2009, I suffered a blow to the head which irritated my nerve endings. I could barely grasp an object in my left hand and my left leg was so weak that even with a cane, I could barely walk. What I didn't know was that after my car accident, the bones had grown together at two different points and were pinching my spinal cord. I had been living with a ticking time bomb for 15 years and anything could have set it off, leaving me paralyzed from the neck down. The spine itself doesn't feel pain and my back muscles were so strong that they twisted the spine around so that it was straight and taking the pressure off of the stenosis. An MRI could have caught it, but until the injury in March 2009, there were no indications that anything was wrong.
I did some research and was told that the two best options were UCLA Spine Center and Dr. Neel Anand at Cedars-Sinai Medical Center. Dr. Anand had operated on the CEO of the company I work for. After his surgery, our CEO was doing great and he's 66 years old. In fact, just two weeks after his surgery, he took his grandson to an amusement park. I chose Dr. Anand, who examined me and reviewed my MRI, which revealed that my spine was completely choked off at the neck and that I was days away from quadriplegia. Dr. Anand rushed me into surgery. They made an incision across my neck below the Adam's apple, removed the bone pinching the spinal cord and removed a vertebra to relieve the pressure on my spine. Then they created bone grafts and made a cage for three vertebrae and installed a plate.
When I woke up from surgery, I was fine. Hours before, I could barely walk. Now I walked with a normal gait and with full strength in my arms and legs. My hands and legs are stronger and the pain is gone from my muscles after being clenched around my spine for five or six years. Dr. Anand immediately diagnosed the problem; he took decisive action and repaired a dangerous condition that untreated, would have left me a quadriplegic. He patiently explained the problem, the surgical procedure, and the recovery process in a detailed and realistic manner. His compassion and professionalism are remarkable.
This is a genuine medical miracle. Dr. Anand saved my career and my future. As an insurance professional, risk is my life. When you spend your career identifying and managing risk, you appreciate that sometimes the greatest risk may be the one that is not apparent. Without Dr. Anand and his prompt action, I would be paralyzed today. My family and I will be forever grateful for his care. This has been a life-changing experience. It really inspired me to think about what I can do to give back. There are probably tens of thousands of people walking around with a similar condition. If I can help keep one person from needless pain or paralysis, it's worthwhile.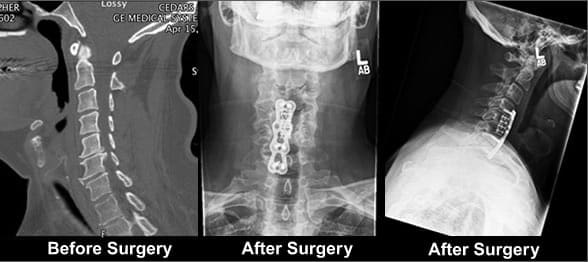 I started in the utility industry after graduating from ITT technical institute in 1988. Back then, I was a telephone lineman. Later, I transitioned to power and enrolled in the National Joint Apprenticeship Training Community, serving as a power line apprentice for 30 months. To an eager apprentice working in a remote area in Northern California, work was nothing out of the ordinary, just another day. I had been on the hooks for a few hours when I started having excruciating pain and had to get down. I was close to blacking out and told my foreman that I had to get to a hospital. I was given medication and because I was working out of town, they recommended that I see my doctor at home. From that day on, I tried many different treatments and medications under my doctor's care and tried to return to my usual work. I would get better for a while, but the pain would always return..
Then in 2007, I had an accident at home while trying to repair my septic tank. I was digging in the dirt, which was as hard as concrete, but I couldn't find the tank. I kept digging until I finally threw out my back. I went to Dr. Moushabeck in Hesperia, who prescribed painkillers and steroids. By 2008 the problems hadn't gone away. Dr. Moushabeck had recently had his neck worked on by Dr. Anand and recommended him highly. In March 2008, I saw Dr. Anand, who diagnosed my condition as spinal stenosis, which he said could repair with surgery. I had heard horror stories about spine surgery, but Dr. Anand said he was conducting a trial study on Stabilimax, a device which stabilizes the spine while allowing for normal mobility. I was accepted into the trial study knowing there was a 50-50 chance that I could get a spinal fusion or Stabilimax. I didn't find out that I was receiving the Stabilimax until right before the anesthesia.
Before the surgery, I could barely walk and weighed 250 pounds. The two-hour drive to work was excruciating. Now I'm down to 190 pounds and run a mile and a half a day. The recovery time was amazing - after six weeks the pain was gone. A year later, I still have a few twinges, because the Stabilimax is an implant and not part of your body. But what's a few twinges compared to not being able to walk! It's a miracle. I hope that others who are living with the pain and loss due to spinal stenosis will also have the benefit that Dr Anand gave me with the Stabilimax implant. Thanks to him and his dedication, I am not dependent on drugs and I can return to the profession I love. It's a miracle! Thanks to Dr. Anand, I am not dependent on drugs and I can return to my profession. He's a brilliant surgeon. My wife and I just love him.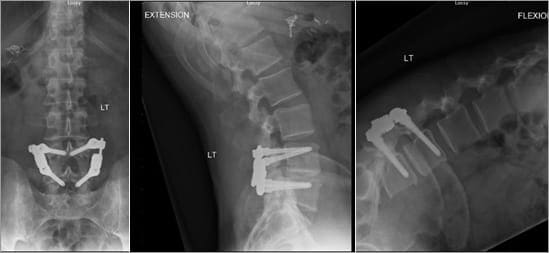 I had been nursing my bad back for 20 years and finally got to a point where I was in so much pain I could barely walk. Since the surgery by Dr. Anand, I am pain free and back to a normal life. In addition to performing my surgeries, he has also successfully operated on my mother, my brother, and two of my friends.
Dr. Anand is absolutely the best. I thank him for being a doctor, and for giving me my life back.
L5-S1 transforaminal lumbar interbody fusion with posterior instrumentation and fusion in June 2011 for treatment of stenosis and degenerative disc disease
L4-5 microdiscectomy in May 2016 for treatment of disc herniation
L4-5 artificial disc replacement in April 2017 for treatment of degenerative disc disease
Before Surgery: 

Staged scoliosis deformity correction in June 2016 – L5-S1 anterior lumbar interbody fusion, L3-4/L4-5 lateral interbody fusion (L1-2 and L2-3 were auto-fused), and T11-pelvis posterior instrumentation and fusion
Before Surgery: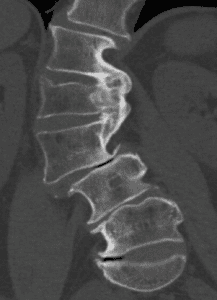 After Stage 1 Surgery: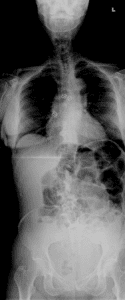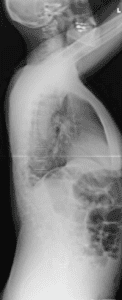 After Stage 2 Surgery: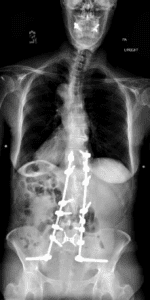 Staged scoliosis deformity correction in June 2016 – L5-S1 anterior lumbar interbody fusion, L3-4/L4-5 lateral interbody fusion (L1-2 and L2-3 were auto-fused), and T11-pelvis posterior instrumentation and fusion
Beverly Taylor was referred to Dr. Anand by another physician in July 2016. Mrs. Taylor had a history of a T10 to pelvis posterior instrumentation and fusion in October 2014. She stated that she recovered well from that procedure up until April 2016 when Mrs. Taylor began developing pain in her right leg, trouble standing up straight, and weakness and numbness in her legs. Upon her arrival to the hospital in July 2016, she essentially had lost all the strength and movement in her legs, except for the ability to slightly wiggle her toes. As demonstrated on the images below, she had developed a fracture of the T10 vertebral body with erosion of the T10 screws into the T9-10 disc space. The collapse of the T10 vertebra and T9-10 disc space resulted in kyphosis and severe compression of the spinal cord.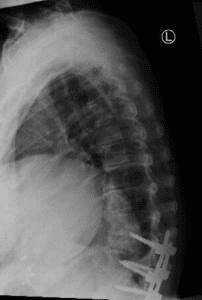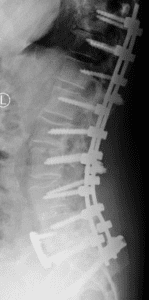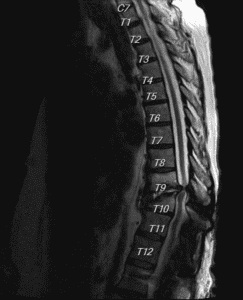 Given Mrs. Taylor's clinical condition, she underwent a T9 laminectomy with a T2 to T12 posterior instrumentation and fusion. Over the course of her 12 day hospital stay, she regained significant strength and sensation in her legs. With continued therapy, she has been able to nearly regain full movement and strength in her legs.